Description
The ProfileStationingReplaceLabels command replaces a label string with a profile elevation representing the profile length at the point being labelled. This provides a method of stationing a pipe distance for a profile. This method of stationing is often used for pipe line design. The alignment may be created by utilizing the ProfileStationing command.
This command contains options for selecting the profile to change, the reference profile, the text to replace and the station precision.
Usage
Run the ProfileStationingReplaceLabels command and select the profile view that contains both the profile labels to be replaced and the reference profile to represent the length of the profile. The following dialog box will then appear: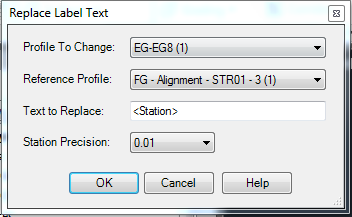 Select the profiles to be utilized as well as the text to replace. In the label styles for the profile add the Text to Replace string that represents the profile length stationing.
Once you have all settings the way you want them, hit OK. The profile labels will be replaced.
See Also

CAPFeature
ProfileStationing is a command to create the profile stationing command. CAPSurface.