Description
The ProfViewGripsToggle command will toggle on three grips to control the station and elevation ranges of a profile view without going into the profile view properties.
Usage
To turn on the profile view grips type ProfViewGripsToggle at the command line or press the button on the ribbon. The button on the ribbon displays grips when the grips are enabled and no grips when the grips are off. To turn the grips off repeat the step above.
The grips will be shown as red diamonds at the top left, top right, and bottom right of the profile view grid. Press on the grip to activate the grip and place the grip in the desired location.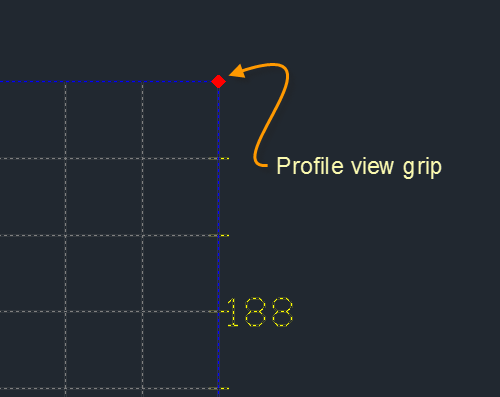 See Also

AddProfViewStaElevLabel
The AddProfViewStaElevLabel command adds profile view station elevation labels to a profile view.

DLLabels
Creates a dynamic link between a Profile View Label and a Civil-3D entity (pipes and profiles).