Description
The TopoStationLabeler command quickly adds Mtext Station and Offset labels for selected Point Groups along a selected Alignment. Labels are placed on the appropriate side of the alignment at a specified distance from the centerline. Label includes Station, Offset, and Point Full Description.
Usage
Type TopoStationLabeler at the command line, the following dialog will be displayed from which you can choose the Alignment, PointGroup(s), Layer, TextStyle, TextHeight, and whether to create the MText with the Annotative property set (if the Style used is annotative). You can also restrict the points to be labeled to being within a certain distance of the centerline, the distance at which to place the label, and the precision to use for the Point's offset distance.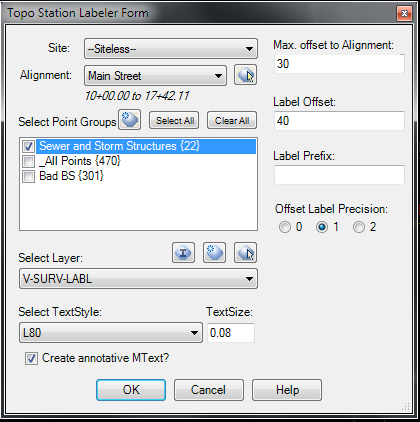 Select OK to add the labels. The labels honor the drawing's LabelStyle Default Plan Readibility and the Readibility Bias settings, as well as the Abbreviation settings for Left and Right. The full station is shown for the first label of a major station range, but the major station is dropped and just the station string from the '+' and to the right is shown for subsequent labels in that range. For instance the first label in the Range from 1 + 00 to 2 + 00 is '1 + 21.43', all other labels until 2 +00 is hit will be labeled as '+ 45.73', '+61.98', etc.
The following image shows the results of using the settings shown in the first image above.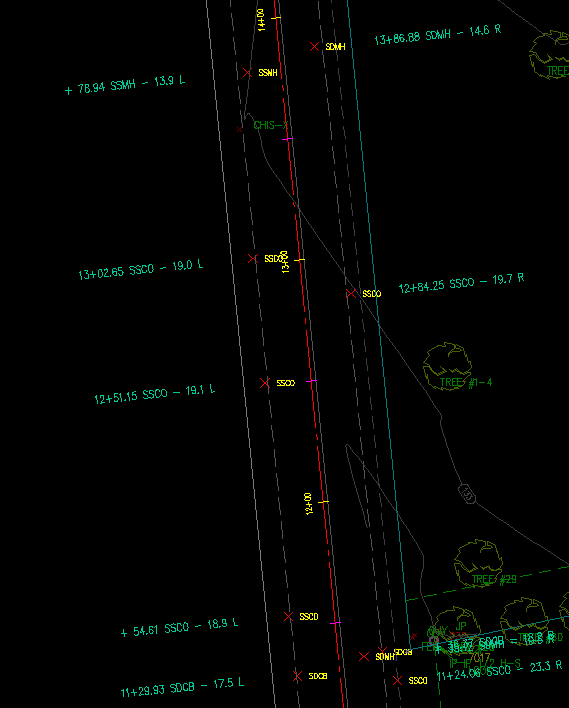 See Also