Description
The SPLayerSwitch command provides a palette with 5 buttons for layer names for easy placement of objects to specific layers.
Usage
Type SPLayerSwitch at the command line to bring up the palette. The first time this is run the layers will all be for Layer 0.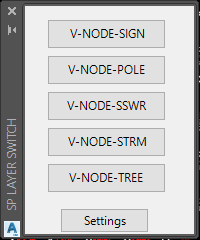 Hit the Settings button to bring up the Settings dialog: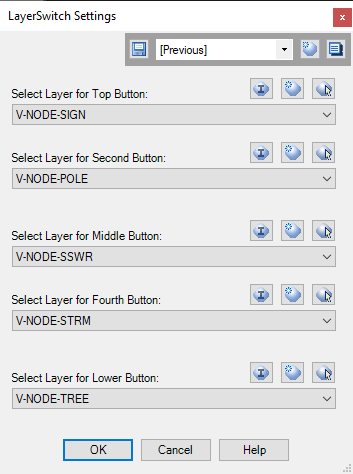 Select a layer to display for each of the 5 buttons. As with other layer selection dialogs, you have the option to select from one in the drawing, import from another drawing, create a new layer, or select an object in the drawing. In the upper-right corner is the Quickset panel, which may be used to save and recall your favorite settings. Pressing OK takes you back to the drawing where you may now click one of the layer buttons then select objects to move to that layer. Alternatively you may first select the objects to change the layer of then select the layer button to move them to. The palette may be left open while you perform other tasks.
See Also

SPLayFrz
Similar to the LAYFRZ command, except will freeze (or vpfreeze, in paperspace) the "apparent" layer of certain Civil-3D entities.

SPLayIso
Similar to the LAYISO (Layer Isolate) command, except that when certain Civil-3D entities are selected, all layers involved in displaying the entity will remain visible. Also works to isolate entire XREFs, or individual layers inside of XREFs.

SPLayOff
Similar to the LAYOFF (Layer Off) command, except will turn off the "apparent" layer of certain Civil-3D entities.